In May 2018, ACO is introducing an extension of its hygienic product portfolio. Starting with the new product group of hygienic wall protection, through the unique frameless ladder grating to the extensions of well-established products, ACO will help you to tackle further drainage specification challenges you face in 2018.
Releasing a brand new interactive map of beverage bottling production allows you to step in the specific environment and see how drainage ensures continuity in high performance production facilities.
See an overview of this year's product portfolio highlights below.

The new hygienic wall protection product group represents new solution that prevents walls from impacts, water and chemical ingress, or other damages associated with traffic and production process. It is suitable for any processing area.
ACO frameless ladder grating
The ACO frameless ladder grating is an exceptional solution, which provides open sides design without compromising food safety. ACO frameless ladder grating provides a unique fully hygienic solution for the best cleaning performance.

ACO hygienic box channel - L-shape & T-shape
ACO hygienic box channels will now be able to be specified in an L-shape or T-shape layout. This new channel design includes unique construction, of which the L-shape features patented design. Both solutions are fully hygienic.
Designed for below-sink use in commercial kitchens and other foodservice establishments, the ACO grease trap AGT-40 prevents grease and food debris from entering waste water. In combination with biological activator it provides very high efficiency of separation.The unit is carefully designed to meet important hygiene standards such as HACCP.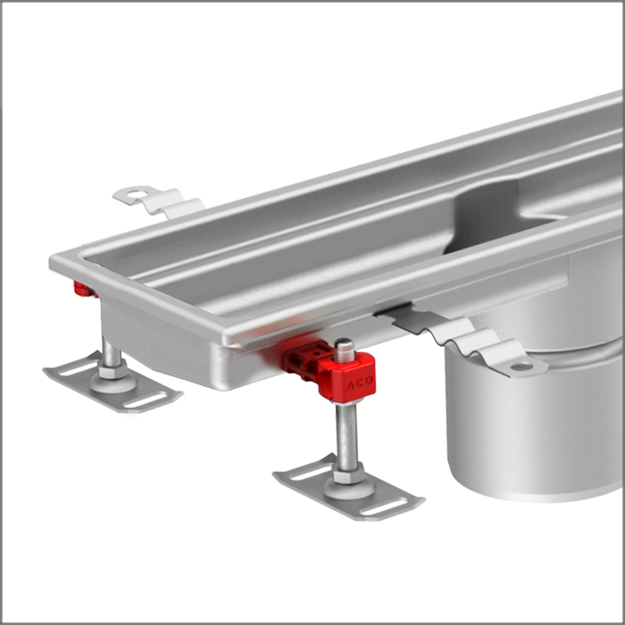 ACO hygienic box channel - narrow
Narrow variation of ACO hygienic box channel with its width of 150 mm is a suitable solution for applications where low flow rates and increased traffic are in place. These channels are designed to create a border between wet and dry or hygienic and non-hygienic areas.