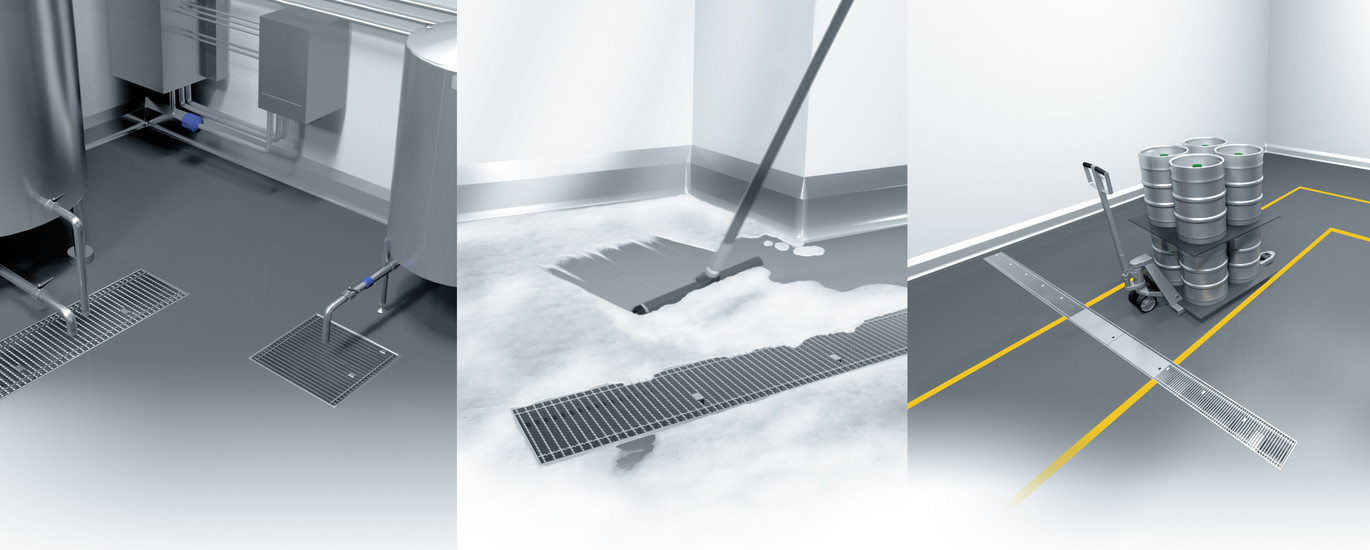 The 3 key questions to ask when specifying hygienic drainage
In our latest blog Vaclav Kralicek, Segment Manager of ACO, provides an overview of the key specification considerations – what ACO calls 'prerequisites'- for the delivery of high performance drainage systems in food and beverage manufacturing.
The need for high performance, hygienically designed drainage systems and the significant impact they have on food safety is now widely accepted by food and beverage manufacturers but the key factors which affect drainage specification are not as well known. At ACO we're committed to helping companies put HygieneFirst and when we design a drainage system there are three key criteria that we always consider.
1. What drainage capacity is required and does the drainage layout match the production equipment layout?
All too often not enough consideration is given to the required capacity and flow rate that the drainage needs to handle now, and may potentially need to handle in the future. Cooling towers, clean in place (CIP) and steam generation are particularly demanding processes which generate large amounts of waste water. Applications such as slaughter houses, where water is required to flow continuously across the floor, and brewing which uses high volumes of water, all these require different capacity of drainage systems. Insufficient drainage capacity leads to flooding which compromises health and safety in the workplace and increases the risk of cross-contamination.
In addition, it's important to ensure the layout of the drainage matches the layout of the production equipment. Put simply, if equipment is placed on top of the drainage or drainage is not easily accessible, the drainage system may not work correctly, may be hard to maintain and impossible, or at least difficult, to clean. It's important to plan your production equipment layout and your drainage system at the same time, and not in isolation. Both the layout of the factory equipment and the drainage system needs to be considered right at the start of a project.
2. Is the drainage system designed for easy and effective cleaning?
The ability to fully clean your drainage system and to do so quickly and easily will have a significant impact on the hygienic performance of your manufacturing facility and also operational costs. Recent research conducted with the Fraunhofer Institute found that hygienically designed drainage can be fully cleaned in just 8 minutes, whereas non-hygienically designed drainage could not be fully cleaned even after 180 minutes of cleaning! That's why we always recommend hygienically designed systems in food and beverage processing environments.
3. Is the drainage system fully integrated into operations?
The floor-drainage connection is often the first aspect of the drainage environment that fails. The correct flooring and drain interface needs to be specified in a way which ensures a good connection between the drainage and the surrounding floor. It's vital that the right interface is specified for type of drainage and flooring required. We consider factors including the dynamic and thermal loading required and the type of flooring material being specified. Working in partnership with flooring specialist, Sika, we have completed a three-year research project which enables us to provide the first evidence-based floor-drainage specification guidance.
It is also essential to consider how the flooring connects with the wall. At ACO we not only provide hygienically designed drainage systems but also a range of wall protection products - ACO kerb, which optimise the hygienic performance of floor-wall connections. Kerb products are designed to protect walls from damage caused by impacts from machinery and site traffic, and to enable factory operators to eliminate water ingress into factory walls, which helps prevent cross contamination between different factory areas and aids cleaning.
Drainage system that is appropriate, correctly designed and fully integrated into your operations ensures production continuity and provides ultimate hygienic performance.
If you would like to know more about drainage prerequisites for food and beverage processing facilities, visit us the EHEDG World Congress 2018 exhibition area and talk with members of our team. More information about EHEDG World Congress 2018 can be found at www.ehedg-congress.org