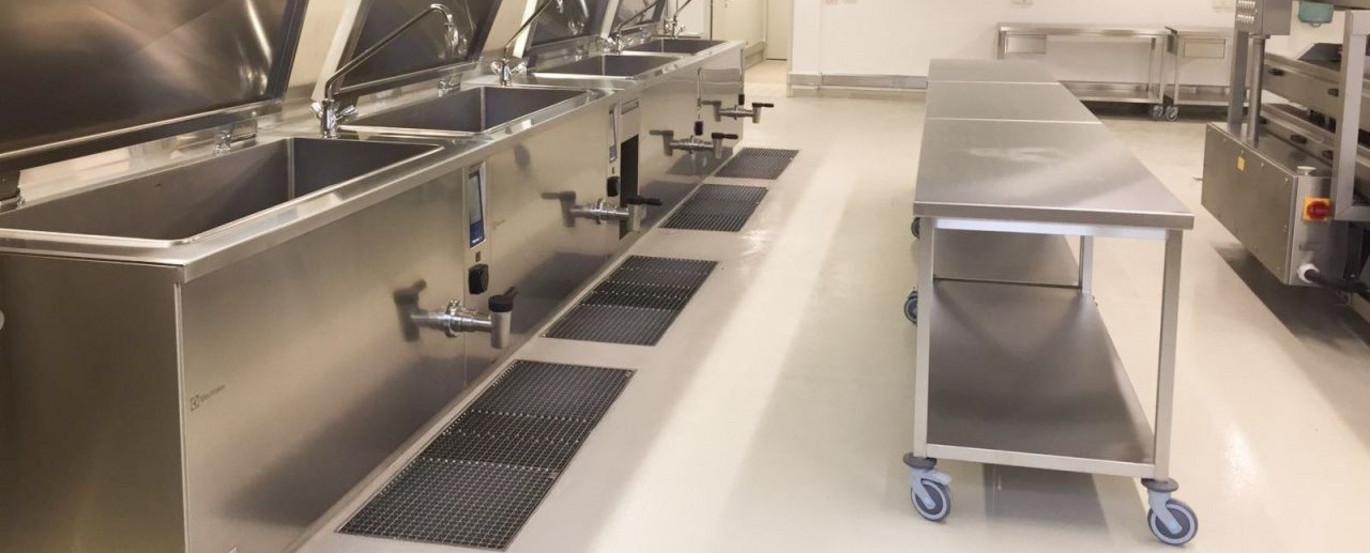 The University Hospital of the City of Vienna Austria
The University Hospital of the City of Vienna decided to build a new underground kitchen, which required the construction of a provisional alternative kitchen. ACO demonstrated its know-how in kitchen hygiene for this major project.
170 employees prepare over 9,000 dishes every day at the University Hospital of the City of Vienna, necessitating the installation of technically and hygienically-sound products for kitchen drainage.
Drainage systems often form a breeding ground for germs and dangerous listeria. Poorly planned drainage solutions can not only lead to extremely high, ongoing cleaning and maintenance costs but also in the worst case to food contamination.
HygieneFirst is ACO's commitment to the ultimate in hygiene. ACO drainage solutions already meet the hygiene standards of tomorrow and are ideally suited for the food industry and large kitchens.
ACO floor gullies were used for the hospital's kitchen among other products. ACO hygienic gullies cover every application. Drains are available in different sizes with different drainage flow rates, and there is a large selection of grating designs. When selecting the right ACO hygienic gully, the floor structure and depth, as well as the selection of the right seal play an essential role.
Hygienic box channels are used in large kitchens and in the food industry. They are supplied in a welded version in widths of 200, 300, 400, 500, 600 and 800 millimetres and are characterised by large radii (of at least 3 millimetres), slopes in the longitudinal and transverse directions and standard cavity filling.
The portfolio of ACO hygienic box channels includes design principles meant to achieve optimal performance. The ACO hygienic box channels are perfect for applications in which a high standard of hygiene is required and where large amounts of liquid are used. All ACO hygienic box channel are certified according to EN 1253.
ACO Products
ACO hygienic gully
ACO customized hygienic box channel
ACO hygienic ladder grating
ACO hygienic slot cover
ACO customized box channel
ACO customized compact box channel
Download reference PDF
---