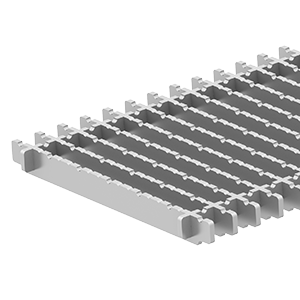 ACO frameless ladder grating
ACO frameless ladder grating is a new addition to our grating portfolio and a unique grating on the industrial building drainage market.
Based on the popular ACO ladder grating design, it offers the best hygienic performance and was developed to be used in the strictest hygienic requirements. It fulfills the highest hygienic standards without compromising load class or slip resistance. The EHEDG (European Hygienic Engineering and Design Group), which associates manufacturers and products that meet demanding hygienic requirements, recommends these grids as fully hygienic. The advantages of ACO design are, above all, fully welded bars without overlapping joints.
It can also effectively substitute the popular hygienic ACO cast grating, by eliminating the downsides of cast stainless steel production, like low load class resistance, and mainly a naturaly occuring material porosity.
Picture gallery
Features and benefits
Hygienic design following EN 1672, EN ISO 14159 and EHEDG document No. 8, 13 and 44
Fully pickled and passivated
Electropolished surface
Registered logo design allows for easy manipulation during cleaning
Range of gratings suitable for load class M 125 (EN 1253)
High flow capacity
Rounded corners
Slip resistant
Low potential for slip according to BS 7976-2, R11 according to DIN 51130
Visit product catalogue for more information