Updated DIN 4040-100: New requirements for grease separators
Published in December 2016, the new version of DIN 4040, Part 100 replaces the previous version, dated December 2004.
DIN 4040-100 applies to grease separator systems manufactured in accordance with DIN EN 1825, Parts 1 and 2, and contains additional requirements and provisions for planning, operation and maintenance. As a result, it impacts upon the specification and installation of grease separators, related lifting plants and connecting pipework. Alexander Leser, Product Manager at drainage specialist ACO Building Drainage, explains the effects of the innovations.
Picture gallery
1. Pipework
In the current edition of DIN 4040-100, requirements for the professional selection and installation of pipes associated with a separator plant are comprehensive. Point 4.1 explicitly states that all pipework (including ventilation stacks) must be resistant to animal and vegetable fats, detergents and high temperatures. The permissible pipework materials comprise cast iron (KML, TML), plastic (PP, PE), glass (borosilicate, float glass) and stainless steel (V4A e.g. material grade 1.4404). Pipe suitability can be

determined by fulfilling normative requirements: Cast iron pipes according to EN 877 must additionally fulfil RAL-GZ-698, PE-HD pipes according to EN 1519-1 and the requirements according to CEN/TS 1519-2 (DIN SPEC 91196) and EN 12666-1. According to Clause 9.3, pipe connections must also comply with the requirements of DIN 4060: The seals utilised must be resistant to the substances contained in the wastewater.
2. Backflow protection
According to EN 1825, separation systems and plants whose static water level is below the backflow level must be drained via a downstream wastewater lifting plant which has two pumps (a double pump system). Depending on the application, lifting plants must comply with either EN 12050-1 (lifting plants for black water) or EN 12050-2 (lifting plants for grey water). The decisive factor for lifting plant selection is whether additional wastewater from toilets will be fed to the lifting plant which is to be used. Purified wastewater from grease separators is considered to be grey water. Irrespective of the requirements demanded by EN 12050, lifting plants installed downstream of grease separators must fulfil numerous other criteria in accordance with Clause 9,5 of
DIN 4040-100. The following applies for lifting plants used in accordance with
EN 12050-1: They require a sensitive level detection system; the resistance of the parts exposed to the media by the resulting wastewater must be guaranteed, and the pump must not be cooled by means of jacket flow cooling. These requirements also apply to below-ground pump stations according to EN 752. For lifting plants installed in accordance with EN 12050-2, all requirements for lifting units operating in accordance with EN 12050-1 have to be observed. The ball throughput opening must be at least 30mm, the pressure tightness must not fall below 0.5 kPa for free installation of the collecting tank, and the ventilation must take place via the roof. In addition, all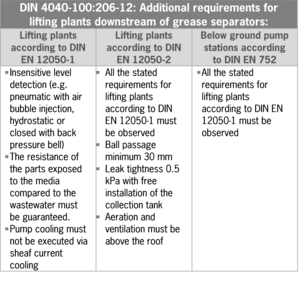 wastewater lifting plants and pumping installations must be equipped with a mains-independent warning device that visually and acoustically signals the interruption of the wastewater flow to operating personnel. The lifting plant dimensions must meet the requirements of EN 12056-4. For wastewater discharge, the value QS (maximum wastewater discharge) must meet the requirements of EN 1825-2. If grease separators and the associated pump systems, which were installed before DIN 4040-100:2016-12, do not fulfil and comply with the new requirements, then the permissibility of the installation must be agreed with the responsible authority.
3. Nominal size
To determine the nominal size, the maximum wastewater discharge to the grease separator can be calculated in accordance with EN 1825-2, as described in Clause 6.2.1 c. Amongst other things, the number of portions of food (M) produced daily is to be taken into account. DIN 4040-100 now restricts the utilisation of this calculation method if the result with M < 50 leads to a nominal size up to and including NS 1. In these cases, the nominal size must be determined by measurement (Clause 6.2.1 a) or via kitchen fittings and fixtures (6.2.1 b). If none of these methods can be utilised, then case-specific calculations shall be made and agreed with the competent approval authority.
4. Installation
DIN 4040-100 generally advises against separation plants in areas at risk of flooding, as unhindered access to the system is not possible in the event of partial or permanent flooding. As a result, covers for grease separators must only be designed to be surface watertight according to DIN EN 1825 . This means that no water backflow has to be taken into account above the covers. Since there are no normatively regulated requirements for this in the associated grease separator standards, any existing official regulations must be observed in such cases. This can mean, for example, that an additional submersible cover system must be installed on site above the grease separator. The feasibility of sealing these cover systems must be evaluated by the manufacturers of the cover systems. In addition, during planning specifiers need to consider that it may be necessary to assess longer-term flooding with regard to structural calculations for the tank: Additional forces will act on the tank which is already exposed to a structural load due to its installation in the ground and due to an additional load applied on the cover.
The grease separator portfolio of ACO Building Drainage is unaffected by the changes to DIN 4040-100. All components fulfil the standards, are BIM-ready and excel in planning, design and installation with the excellent support of the technical customer service team at ACO Building Drainage.
Detailed information about the innovations of DIN 4040-100 as well as the grease separator range from ACO Building Drainage can be obtained in PIM or at icb-haustechnik@aco.com
ACO Building Drainage is a specialist division within the ACO Group. It designs and manufactures drainage, separators and pumps for use in domestic and commercial buildings. As one of the leading suppliers of system solutions, ACO Building Drainage has extensive experience and capabilities in the field of building technology. Working in partnership with its customers, ACO Building Drainage provides market-leading products, delivery and design services.