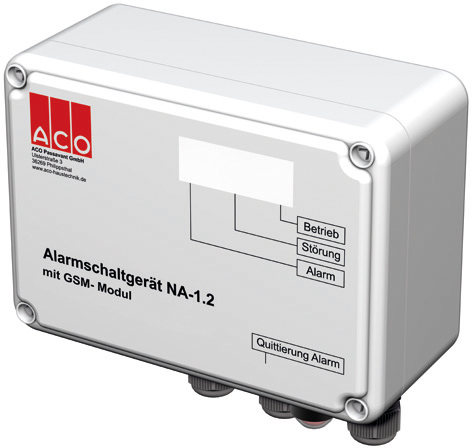 Fat layer thickness measurement: Automated data transmission and alarming with the GSM module from ACO Building Drainage
The 130-tonne 'fatberg' found in London's sewers in September 2017 demonstrates how fat residues and deposits can cause issues within the public sewer system. Even though London's fatberg has since been removed – and may even be turned into biofuel – prevention is always a better option than having to remove fatbergs from the sewer network. Modern solutions such as the GSM module from ACO Building Drainage help by making the inspection and maintenance of grease separators, lifting plants, backflow stops and process engineering systems a much simpler and quicker process.
Picture gallery
GSM stands for "Global System for Mobile Communications" – a term commonly associated with telecommunications. GSM is the most widespread standard for fully digital mobile radio networks worldwide. Nearly 700 mobile networks in approximately 200 countries of the world currently use GSM - around 80 percent of all mobile customers. The new GSM ACO MtM (Message-to-Mobile) module is utilised in sewage lifting plants and backflow stops to inform operators about errors, faults, malfunctions, maintenance intervals and backflow incidents. It is particularly suitable for grease separator systems which have strict emptying specifications. It is available as an integral component and can also be retrofitted.
The GSM module from ACO Building Drainage is equipped with six digital and two analogue inputs (4-20 mA and 0-10V), two relay contacts which can lock a control unit remotely during a service call for example, and a 12V alarm output for the direct connection of an alarm light or horn. The GSM module does not necessarily have to be configured on site before commissioning and can be configured from the office. The SIM card is not inserted until the system has been set up and connected, and the PIN and/or name of the object is then stored in the control unit as well as the various alarms which have freely configurable fault signals, and the telephone numbers of key contacts such as the facilities manager or service partner. Every alarm can be assigned to specific individual or group receivers. The type of message (SMS or e-mail) and the chronological sequence (for multiple recipients) can be adjusted to suit individual requirements as can the nature of confirmation receipts when a fault has been rectified.
A common task for the GSM module is the creation of an automatic alarm which is triggered when the grease layer reaches a specified thickness. According to
DIN 4040-100 and DIN EN 1825-2, the sludge trap and grease separation unit must be completely emptied and cleaned at least once a month, preferably every two weeks - irrespective of the actual grease layer thickness. Extended emptying cycles are possible, however, provided that a lower level of grease and sludge can be shown to exist than would normally be expected within this time frame.
Verification can be made using documentation contained within in the operational log where entries are made during in the course of regular inspections. Conventional grease separators are equipped with sight glasses for visual inspection in order to measure sludge height and grease layer thickness. The measurement is however executed automatically by a grease layer thickness gauge in modern devices. The GSM module ensures data transmission. It records up to three potential-free contacts (pre-alarm, full alarm, fault) from the measuring device and thereby assumes the automatic data transmission, the notification of disposal cycles, faults and malfunctions. Conversely, the automated query of the system can be set to function at any preferred time. It is executed by means of sending a pre-configured SMS to the device, which in turn immediately and automatically sends back a current status message.
The automated forwarding of fault, malfunction and incident messages enables the fastest possible response to any issues and prevents any consequential damage which may be caused to buildings, plants and systems. ACO MtM (Message-to-Mobile) is characterised by multi-user capability (up to 5 receivers can be configured), mains and network independence (battery operation in the event of a power failure) and very simple operation and setup via laptop (licence-free software with very user-friendly user interface). Setting up the system can be executed by ACO Building Drainage on request, either online or by a technical consultant on site.
Additional information regarding the new LipuSmart grease separator system solution from ACO Building Drainage can be obtained from ACO Building Drainage.
ACO Building Drainage is a specialist division within the ACO Group. It designs and manufactures drainage, separators and pumps for use in domestic and commercial buildings. As one of the leading suppliers of system solutions, ACO Building Drainage has extensive experience and capabilities in the field of building technology. Working in partnership with its customers, ACO Building Drainage provides market-leading products, delivery and design services.