ACO Stormbrixx
Sustainable stormwater treatment solution for infiltration, retention and reuse
Groundwater infiltration, retention and controlled release of stormwater are central issues of stormwater management. The ACO Stormbrixx is a unique and patented plastic geocellular stormwater management system. Equipped with smart components ACO Stormbrixx offers a wide range of possibilities for a controlled stormwater management system. The Stormbrixx system consists of Stormbrixx SD (Standard Duty) and Stormbrixx HD (Heavy Duty) modular in different sizes.
Product benefits:
Extraordinary stability including brick bonding
The patented brick bonding and cross bonding feature provides a strong, long term installation and also helps to improve the construction speed of the tank
Certified performance with beyond the standards high frequency series production testing
High void ratios which minimizes excavation volume
Low carbon footprint due to recyclable material and logistical benefits
Remote and man access for ease of maintenance
The stackable design reduces transportation costs
Can be configured to minimise silt accumulation
Added feature of a low flow and drain down facility ensuring that the system can be properly maintained throughout its life
Applications:
Airports, distribution yards, highways, industrial estates, landscaping, parking areas, pedestrian precincts, ports and docks, retail developments, SUDS – sustainable drainage systems.
---
---
---
---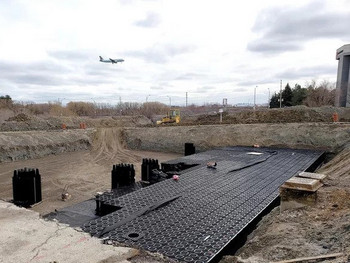 Toronto-Pearson International Airport
Park 'N Fly operates several off-airport car parks across Canada, providing over 22,000 parking spaces over 73 hectares of land. Continuing their expansion near Toronto's Pearson International Airport (YYZ), a 5+ hectare former hotel site was redeveloped into a parking lot and was required to meet the City of Toronto requirements for stormwater management. These guidelines help to reduce the strain on local storm sewers and protect the nearby Mimico Creek from erosion by slowing peak flows. 2,665m3 of total net storage was required for this large site.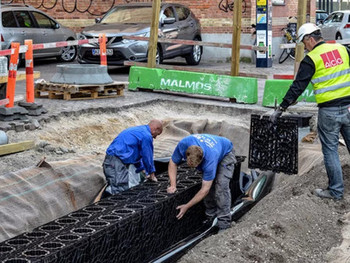 Climate Tile Copenhagen
An important component of the "Copenhagen Climate Tile" concept is the modular ACO Stormbrixx infiltration and retention system, a technical solution for underground storage and infiltration of stormwater. For each category of application, a project-oriented and economical design of block storage or infiltration can be made. For standard applications, such as car parking areas with occasional overrun by emergency vehicles, the SD variant is an economical solution. The Stormbrixx HD system is used in areas with occasional heavy traffic.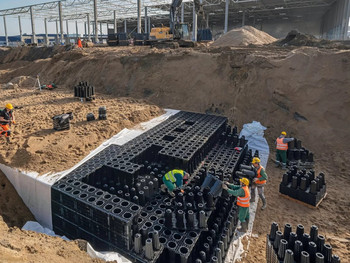 Panattoni Airport Gdańsk
Collecting and infiltrating the stormwater from a large paved surface back into the groundwater makes a big contribution to groundwater recharge. The investor Panattoni Development Europe have announced the tender for design and delivery of the infiltration tank made by a box system to be built on site. Expected capacity was 1750 cubic meters and delivery had to be made within just 3 weeks at the end of 2020. ACO Poland was one of five invited manufacturers to provide a solution. The installation was planned to be installed under the lawn in a green field area of the logistic center.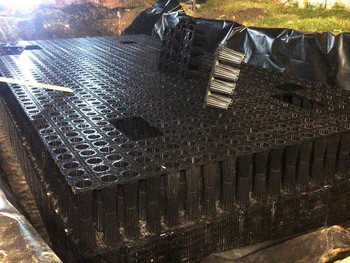 Electrical Bus Depot Bogotá
The infrastructure and technology of the new depot are designed to be environmentally friendly. The depot offers a broad range of distinct functions: there are 120 parking spaces for buses with recharging points, a washing area with a wastewater treatment plant, parking lots and bicycle parking spaces for officials and visitors, environmental management areas, storage areas, and a technology area for the adaptation of the information and communication systems of the buses. ACO delivered an integral drainage system, to collect, clean, retain and discharge stormwater in a controlled way.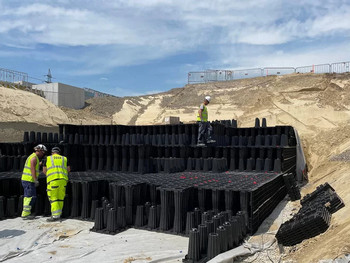 Data Centre Vienna
When building a new data centre near Vienna, ACO was consulted as a partner for managing the surface water. What nobody knew at the beginning was that this would become ACO Austria's biggest project of all time. ACO was originally contacted by those responsible for the supply of mineral oil separators. Due to the scope of the request, it was quickly recognized internally that this would be a complex and large project. The team then offered the client a presentation on the advantages of ACO's entire system chain. The many advantages of technical filters, Stormbrixx and the GRP material, were of great importance so after much discussions the client accepted ACO's offer.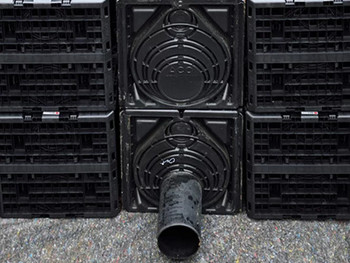 Trave Campus Lübeck
Flood prevention and backwater protection - a sustainable way of treating stormwater. Contaminated water from roof areas and car parks is cleaned before being discharged into the downstream system. The "Neues Wallufer" district is being developed on the historical grounds of the Lübeck municipal works, the former location of the old gasometer. It stands directly on the banks of the town moat, which is part of the Trave river that flows into the Baltic Sea. The district will offer both modern residential properties as well as commercial spaces for offices and the food services industry.