Waste water lifting plant Muli Pro-PE K duo
Product benefits
Large usable tank volume
Various inlet heights
High level of operational safety thanks to pilot tube and air bubble injection
Suitable for wastewater containing grease
Can be extended in parallel lengths
Energy-saving channel impeller
Designed to fit through narrow doorways: 780 mm
---
Product information
Areas of application

Apartment buildings
Small business premises with a high level of wastewater
Downstream of grease separators up to NS 20
Where there are long discharge pressure lines with a large difference in height

Polyethylene tank
With drain plug
With connection for hand membrane pump 1½"
With fixing kit for operationally secure attachment
With 4 horizontal intake nozzles DN 150
With 1 vertical intake nozzle DN 150/200
With 1 service opening, clear width: 250 mm
With ventilation sockets DN 100 to connect to plastic tube
Connection pressure line

With 2 special backflow stops DN 80 (DN 100 on Muli Pro-PE K‑75 duo) with venting device
With Y-branch
With special mounting adapter DN 100 for connection of 108 – 114.3 mm pipe external diameter pressure line

2 pump motors

Three phase motor 400 V, 50 Hz
IP 68 protection
With axle and rotating mechanical seal
With channel impeller

Pneumatic level switching with pilot tube and pneumatic control line
Mini compressor for air bubble injection
Switch and alarm device

IP 54 protection
With 1.5 m cable and EEC plug
With volt free centralised fault and operational warnings
Incl. 10 m cable between lift and switch box.
Infobox
Note: The max. temperature must only be attained briefly.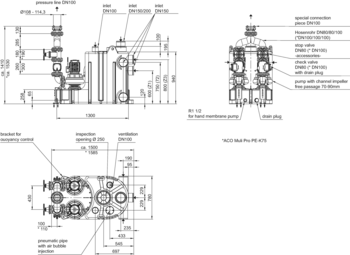 Type
Motor power
Key data
Granu
lation
Usable volume
Total
volume
Weight
Item
number
Downloads
Remember
P1
P2
Current
consumption
Volt-
age
Rev-
count
Inlet
height Z 1
Inlet
height Z 2
Inlet
height Z 3
Top inlet
[kW]
[kW]
[A]
[V]
[r/min]
[mm]
[l]
[l]
[l]
[l]
[l]
[kg]
Muli Pro-PE K‑15 duo
2.01
1.5
3.6
400
1450
70
240
305
330
330
520
303
0175.13.17
Muli Pro-PE K‑22 duo
2.94
2.2
5.2
400
1450
70
240
305
330
330
520
314
0175.13.18
Muli Pro-PE K‑30 duo
3.87
3
6.6
400
1450
70
240
305
330
330
520
346
0175.13.19
Muli Pro-PE K‑55 duo
6.71
5.5
11.6
400
1450
70
240
305
330
330
520
401
0175.13.20
Muli Pro-PE K‑75 duo
8.97
7.5
15.5
400
1450
100
240
305
330
330
520
410
0175.13.21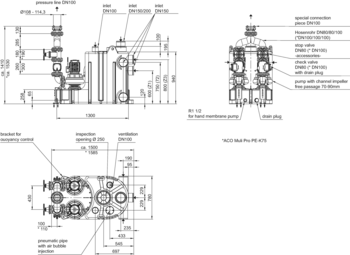 Type
Motor power
Key data
Partical size
Usable volume
Total
volume
Weight
Item
number
P1
P2
Power consumption
Voltage
Rev count
Inlet height Z1
Inlet height Z2
Inlet height Z3
Top inlet
Muli Pro-PE K‑15 duo
2.01 kW
1.5 kW
3.6 A
400 V
1450 r/min
70 mm
240 l
305 l
330 l
330 l
520 l
303 kg
0175.13.17
Muli Pro-PE K‑22 duo
2.94 kW
2.2 kW
5.2 A
400 V
1450 r/min
70 mm
240 l
305 l
330 l
330 l
520 l
314 kg
0175.13.18
Muli Pro-PE K‑30 duo
3.87 kW
3 kW
6.6 A
400 V
1450 r/min
70 mm
240 l
305 l
330 l
330 l
520 l
346 kg
0175.13.19
Muli Pro-PE K‑55 duo
6.71 kW
5.5 kW
11.6 A
400 V
1450 r/min
70 mm
240 l
305 l
330 l
330 l
520 l
401 kg
0175.13.20
Muli Pro-PE K‑75 duo
8.97 kW
7.5 kW
15.5 A
400 V
1450 r/min
100 mm
240 l
305 l
330 l
330 l
520 l
410 kg
0175.13.21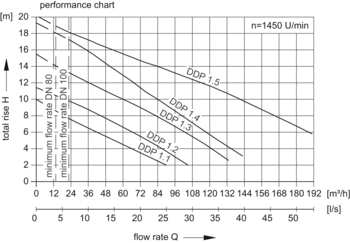 Type
Delivery head
Delivery flow Q with overall delivery head H
Media temperature
4 m
6 m
8 m
10 m
12 m
14 m
16 m
18 m
Normal
Maximum
[m]
[l/s]
[l/s]
[l/s]
[l/s]
[l/s]
[l/s]
[l/s]
[l/s]
[°C]
[°C]
Muli Pro-PE K‑15 duo
3 – 8
18.3
11.7
5.8
40
60
Muli Pro-PE K‑22 duo
3 – 10
24.2
18.5
12.5
5.3
40
60
Muli Pro-PE K‑30 duo
4 – 14
33.5
28.4
23.1
16.8
10.3
4.2
40
60
Muli Pro-PE K‑55 duo
4 – 17
37.3
32.7
28.1
23.1
18.8
14.1
9.4
40
60
Muli Pro-PE K‑75 duo
6 – 18
51.8
46.2
39.2
31.7
23.2
14.2
6.8
40
60